One Time Water Line Replacement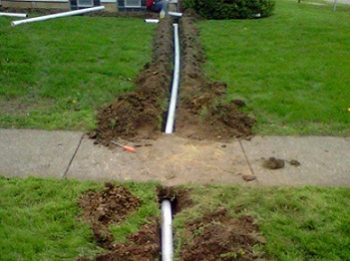 While maintaining a home's original style might add to its charm, "vintage" plumbing is something most people can do without.
If your home is still running on a first-generation main water line, or if it's old, majorly worn-down, or damaged, it could be time for a full replacement.
With over 20 years of experience in all things plumbing, the plumbing contractors at PNW Plumbing are trusted by residents of Beaverton and the surrounding areas for professional replacement to the main water line.
Because the typical home's plumbing is surprisingly complex, the signs of a main water line failure might be attributable to other sources at first glance. But taken together, these are the signs that might indicate a problem with the main line:
Signs of Water Line Issues
If every sink and toilet in your home is taking a while to drain, then you have more than most likely you have a clog that is isolated to the main line. Where a single room with poor draining might indicate an internal line is clogged with hair or grease, draining problems in every part of the house point to a main water line clog.
Noisy Pipes
Another indicative of a clog to the main line, the sound of sloshing coming from your water fixtures means that your water has nowhere to go and isn't flowing past the blockage. If that's the case, a backup into your home becomes a real possibility.
Water Nearby
If pools of water spring up in front of your home, whether it be curbside, in the street, or in your yard, that might mean a leak to your line. Often times, the city or municipality might be how you learn about your leak.
Close Proximity Trees
Many homeowners are surprised to find out that the most common source of a water line clog is actually roots that have made their way into the main line through tiny cracks or weaknesses in pipe joints.
These thin and stringy roots infiltrate the water supply, feed on nutrients and water the plumbing provides, and grow until there's a total clog.
Deciding to Repair or Replace a Water Line
There are some considerations when choosing to replace a main water line. They are:
Has a Replacement Already Happened? The last thing you want is to dig up and repair your main water line more than once. So if your main line hasn't already been replaced, replacement usually makes more financial sense for most homes. Especially when you consider that repairing and replacing a main water line might be closer in cost than you'd think.
How Old Is It and What's It Made Of? If your main water line hasn't been replaced, an experienced plumber will have a good idea of when your plumbing was originally installed, and what it's made of.
Repairing VS. Replacing a Water Line
Answering the question of to repair, or to replace, ultimately comes down to the simple math of the matter: Digging up and obtaining permitting for main water line repair doesn't cost that much less than a total replacement.
And because of this negligible difference in overall cost, whichever option equates to less labor (and less excavating) is usually best.
In the majority of cases, a replacement is going to be the way to go. Though there is one major exception. If your main water line has already been replaced, emergency repair done by the same company could be the cheapest path forward.
Professional Water Line Replacement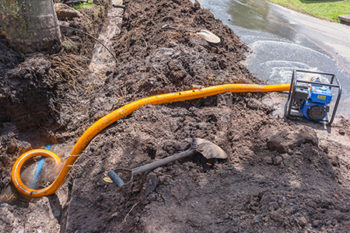 The experienced team at PNW Plumbing knows that replacing the main water line is one of the bigger decisions when it comes to your home's plumbing. Even when the signs are clear that there's a problem, it's easy to put off.
To help make the decision a little easier, we work with every client to explore cheaper, less invasive options. Our company also offers flexible financing options to ease the burden. For our friends in Beaverton, we also offer the following services:
Repipes for brand new plumbing throughout your entire home that supports your new main water line.
Efficient water heater upgrades that make the most of a fresh plumbing system.
And everything in between!
If it does come down to a main water line replacement, our veteran team of plumbers and diggers does their work neatly and considerately, while keeping your property intact as much as possible.
Give us a call today.
See What Clients Are Saying