Main Water Line Repair Professionals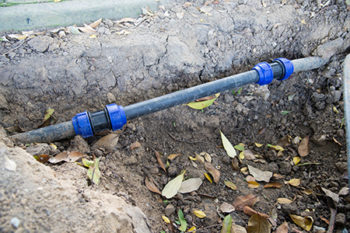 The city grid delivers water to your property through your main line. It's your home's water lifeline. It also ferries your waste water back into the grid. Delivery and removal can be affected by a main line issue. This can cause major problems. You want main water line repair in Vancouver from a local plumbing company with area experience.
Home and business owners rely on us for our workmanship and affordable main water line repair cost. They know we stand by our 5-Star Plumbing Service Guarantee. Our technicians arrive quickly and have the training to stop further damage, assess the problem, and repair it. Mainline issues typically cause flooding and backups. These may involve sewage and waste. We can repair portions of the main line, including replacing a main water line from the meter to the house.
Checking Your Water Line
How old is your plumbing? The majority of the nation's current infrastructure is 60 years old or greater. Depending on how old your pipes are can help us determine whether replacement is a better option than repair.
What's your soil PH? Poor soil conditions affect your pipes. On certain materials like clay, it can be devastating. Testing soil for low resistivity or high chloride can reveal if this is a factor. If it is, we may recommend ways to adjust your soil PH to stop this issue from happening again.
Do your trees have non-invasive root systems? The biggest reason homeowners in Vancouver, WA need main water line repairs is because of root growth. Trees and shrubs seek out water sources. A small leak in the main line supplies a steady source. These roots can crack, break, and even strangle water main lines.
What are my water pipes made of? Just like everything else, pipe materials have advanced. Since pipes are often ignored until there is a problem, many old homes use inferior materials. Your home could have pipes made from steel, tile, or clay. Add in corrosive soil and you're guaranteed to need repairs eventually.
Have you seen any main line problem warning signs? Don't ignore warning signs. Your plumbing is telling you there is an issue. Knowing what you should look for is critical. Keeping the phone number of a trusted local plumber can help during a high-stress plumbing emergency as well.
Signs You Need Main Water Line Maintenance
Water bill increases
Water pressure or flow decreases
Indents or sinkholes in your lawn
Concentrated lawn grass growth
Bad odors in or around your home
Spots of moisture in your home
Your yard is flooded
The basement is flooded
Toilets or sinks clog easily
Comprehensive Main Water Line Repairs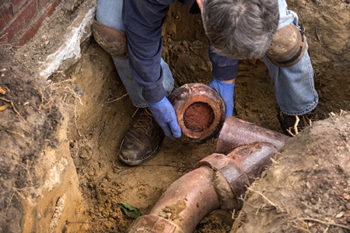 We have more than 20 years serving local homes and businesses. PNW Plumbing was built on customer referrals and word of mouth. Providing customers with the best experience has always been our bread and butter, and that's why you're guaranteed to get friendly and responsive service from the areas most accomplished plumbers.
You shouldn't move forward with plumbing services before you know what they are, so we're sure to explain all of our options in full. Many problems have multiple solutions, and we'll make recommendations based on your situation but present every available option. Making sure you are informed lets you make the decision that works best for you.
We'll also use long lasting replacement parts and always leave your home how we found it. Better parts now mean less work later. They are also warrantied for much longer. Scheduling is based on your needs. When we work at commercial locations we work to leave business uninterrupted. A thorough cleanup is always part of the job, so you can enjoy your repairs mess free.
Call PNW Plumbers for main water line maintenance today! When you want efficient, reliable, and professional main water line repair in Vancouver, give us a call!
See What Clients Are Saying