Reliable Water Line Replacement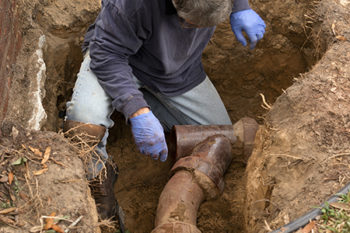 If your piping system is too damaged and main water line repair is no longer an option you might consider a water line replacement. If you bought a new property, are expanding, or repairs aren't cost-effective, the existing main water line infrastructure doesn't always cut it. That's when you need an effective, reliable, and affordable main water line replacement plumbing company like PNW Plumbers.
With more than 20 years in the industry, we've helped local business and homeowners throughout Portland. We understand that different structures have different needs, and account for water usage, terrain, and soil composition when replacing main water lines. This allows us to avoid future problems by placing main water lines away from trees and other potential hazards. If you've suffered from main water line problems, we may also be able to replace a portion of the main line. This can be an effective, and cost friendly solution to a total replacement.
Sign Your Pipes Are Damaged
Mainline issues can present in a number of different ways. Look for these symptoms of mainline damage. If you identify any, call us immediately.

Sewage is backing up into your home.
Toilets are regularly backed up.
You smell sewage in your home.
Mold is found growing on the walls.
There are indentations in your lawn.
One part of the lawn is green when the rest is not.
You've identified a waste area in your yard.
Your lawn is experiencing sinkholes.
Comprehensive Water Line Services
Main Water Line Inspection and Diagnosis: Our experienced technicians perform complete inspections of your system using the best available technology. We'll compile our results into a diagnosis, identify any problems, their best solutions, and the cost of main water line replacement. We don't leave anything out, and if alternative measures are available we'll present these options as well.
Water Line Replacement: Whether you need line replacement in your home or in the portion of the system that connects to the city grid, we have you covered. Our technicians are versed in a wide array of methods. Some of these leave a very small footprint. We work extensively with area business owners as well. As your main water line replacement company, we're happy to work around your schedule so that business remains uninterrupted.
Main Water Line Leak Detection – Water bills that seem much higher than they should be can indicate a water line leak. Our water line leak inspections are designed to pinpoint these no matter how small they are. Ensuring leaks are dealt with swiftly can save your home or business from much larger problems.
Trenchless Main Water Line Replacement – For many of our clients, digging up their back or front yard isn't a desirable option. Using state of the art methods we can replace the main water line anywhere on your property with minimal digging. These methods are effective on both larger and smaller pieces of line.
Replacement Options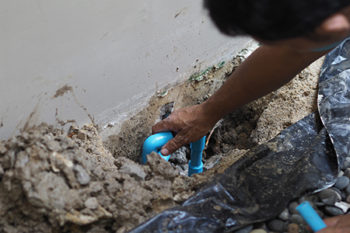 Many older water lines are made from inferior materials, we use a variety of piping depending on the area and customer requirements. There have even been some recent advancements in piping that have yielded cost effective and incredibly durable options. With a low rigidity, PEX is a great choice for retrofitting and incredibly cost effective. This makes it a great choice for main water line replacement in Portland.
We'll discuss options with you as piping choice may vary depending on your current infrastructure and whether or not we are performing a full or partial replacement. One of the greenest, longest lasting choices is Polypropylene pipe or PP. With an excellent record for safety and durability, we've got the equipment and the expertise to install a piping that's beginning to make waves in the US.
When you want the options, services, and expertise to meet your main water line replacement needs head on, call PNW Plumbers!
See What Clients Are Saying