Professional Fixture Installers for Portland
Plumbing fixture installation can become a messy job if one minor thing is done wrong. Go ahead and leave it to the experts. The skilled plumbers employed at PNW Plumbers will get the job done quickly and thoroughly. Rely on us for all your plumbing fixture installation needs. No job is too small or big. We can do toilets, faucets, showers, dishwashers. All that and the kitchen sink!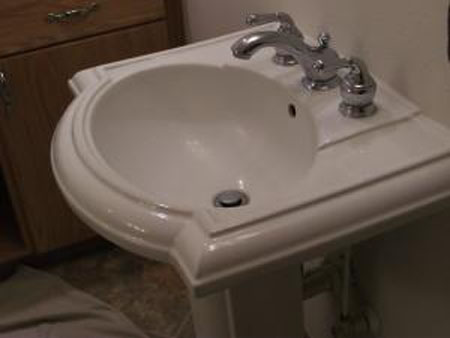 PNW Plumbers uses only the top quality plumbing fixtures, from the most trusted manufacturers. Whether you are remodeling your kitchen or just replacing a shower head, we get the job done in a timely manner. We understand the latest trends in the market and what looks good. Our fixtures are made to beautify and enhance the look and feel of the room. All of this in combination with affordable pricing, what more could you ask for?
We make installing new fixtures easy! Get the look and performance you want, guaranteed. A lot can go wrong during an installation if you don't know what you're doing. Don't risk water damage by doing it yourself. Call us now!
Installing Kitchen Faucets and Sinks
Kitchen faucets and sinks require constant readjusting during installation, and if not done correctly, leaks can develop and go unnoticed for days (even weeks!) causing water damage to cabinets, flooring, and sheetrock. Leave this tedious task to our plumbing professionals, we guarantee your satisfaction when it comes to installation of new faucets in your Portland home. Our sink and faucet installation services include:
Kitchen sink replacement
Undermount sink installation
Sink plumbing replacement
Garbage disposal installation
Kitchen faucet replacement
Tap water purification system installation
Installing Bathroom Faucets and Sinks
Bathroom faucets should be functional as well as fashionable. To make sure that they are placed and installed correctly, trust their installation to PNW Plumbers. Bathroom sinks require a clean, smooth placement in order to look modern. They are unique because they combine functionality with design. To make a true fashion impact in the bathroom, our skilled plumbers will install your sink well.
Installing Shower Fixtures
Shower fixtures go from being a single head to three or four strategically placed heads- all designed to hit your body in an efficient way.  Whether you're looking for a replacement for your shower head, or all-out remodel of your bathroom's plumbing, we are experienced in everything plumbing when it comes to showers.
Installing Toilet Fixtures
Toilet fixture installation in Portland is not something you want to try yourself. The bowls are heavy and can be a pain to install. Let the experts at PNW Plumbers handle it.  We are experienced in all types of toilets, from modern water savers to powerful commercial toilets, we service and replace them all.
Installing Garbage Disposals
Garbage disposals require a thorough hands-on job. The different sizes of the parts make for a long and tedious installation that is prone to mistakes for those without proper plumbing knowledge. This is not recommended for novice DIY'ers. Trust PNW Plumbers to get the job done without error.
Garbage disposals come in all types of sizes, power ratings, and quality levels.  Often when replacing a garbage disposal it is necessary to replace or re-size the existing plumbing connections. PNW Plumbers has these parts and fittings in our vehicles. Speed and efficiency are important to us because we want to make sure you're back up and running as soon as possible.
Call today for Fast Fixture Installation in Portland!
At PNW Plumbers we also offer Plumbing Fixture Installation services in: Vancouver and more!
See What Clients Are Saying