Water Line Replacement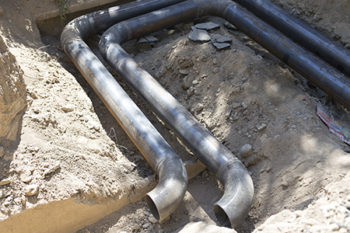 As most homeowners are aware, your home's main line is the one and only connection to the public water supply.
Throughout the day, it carries more water than any of the pipes in your home and because of this increased volume, must be built to last.
While most main water lines were built to withstand heavy water flow with the materials of the time, many homes in Lake Oswego may be approaching the natural end of their main water line's lifespan.
That's when a visit from an experienced plumbing contractor such as PNW Plumbing becomes increasingly necessary. What's more is that especially with aged water mains, the vulnerability to corrosion or root systems that worm their way into the line grows as time goes on. The final straw for the original water line to your home will most likely be that the force of nature has made its way in and negatively affected your water supply.
Signs of a Broken or Clogged Water Line
There are some telltale signs of an affected main water line that every home needs to be aware of.
Sloshing Sounds Coming from Your Pipes
If you hear the echoing sound of water moving around in your pipes, that typically means there is a blockage that water can't get beyond. What you are actually hearing is the water in your home coming up against the clog, and getting sent back towards the home.
Slow Draining
While one drain that fails to clear out might mean you've got some hair or grease clogging up that individual line, widespread draining issues throughout the house indicate the beginning of a serious blockage to the main line.
Water Near the House
Whether it's in the street or appearing in the yard, water that suddenly appears near the house means you've got a breach to a major water line – and that line might belong to your home.
Elevated Water Bills
If your monthly water bill jumps significantly, but there hasn't been a reason for an increased draw in water usage, that could mean that somewhere in your plumbing system is a leak. If you're not sure where it is, it might be time to call your water company, and a plumber.
Emergency Water Line Shut Off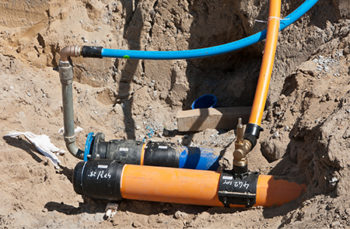 For any issue with your main water line, the best thing to do is call an experienced plumber like PNW Plumbing to come out and inspect your system.
If it's an emergency such as a leak or backup into your home that exposes your main line troubles, it's important to know where the main water shut-off valve is. Where some main water valves are conveniently located in the basement, others might be located in crawl spaces or other hard-to-reach areas. Not sure where to find your shut-off valve? Give us a call and we'll come out in a jiffy.
While you're at it, here are other services worth considering at the same time as a new main water line:
Repipes, or re-plumbing, your home with brand new pipes.
Installing an upgraded and uncorroded water heater.
And so much more!
Most homes that haven't had a main line replacement done in the past will be better served by a full replacement than a spot repair. While the costs do vary from home to home, in most cases, replacing once is better than repairing twice.
If you're experiencing any of the signs of a broken water main, call PNW Plumbing for an inspection, repair, or replacement today.
See What Clients Are Saying