Boring Services for Your Home
Traditional methods for mainline repairs, replacements, and installations can be extremely invasive. They require ripping up the yard to access the line. This may mean sacrificing trees, bushes, and even concrete work. All of that work adds additional labor and time onto the process. That's not to mention the work it takes to clean up. You shouldn't put your yard through it if you don't have to. That's where our expertly trained plumbers come in. PNW Plumbing provides local directional boring in Vancouver, WA. We can safely, simply, and cleanly perform mainline services for your sewer system.
Trenchless Drilling Can Do So Much for Your Plumbing System
Boring isn't just the smart option for your lawn, it comes with a host of other benefits as well. Here are some things that boring can do:
Directional boring in Vancouver, WA protects your property from invasive damage. Our advanced boring methods can leave your landscape, hardscape, and property undamaged.
Boring is also known as trenchless. This is because it uses a bored hole to work through instead of digging a trench to access sewer pipes.
Directional drilling saves you money. You won't have to pay additional fees to repair the damage conventional line installation methods cause.
Horizontal boring is easier on the environment and can be performed in a much shorter time than conventional methods.
How To Know If You Need Directional Drilling Services
The first thing we do is inspect your current system. Trenchless options aren't available for every problem. When an entire line needs to be replaced your best option may be traditional methods. This is because boring performs all work through an enlarged pilot hole. The hole is used as an access point to reach the current line or install the new one. Our technicians will determine all of your available options and detail them in full. We want you to make the right choice, and we provide all the information you'll need to do it.
When Boring Services May Be Needed
Depending on your property, pipes, and the nature of the work we may be able to use boring during:
New main line installations
Partial mainline replacements
Mainline repairs
Complete mainline replacements
Contact Us Today for Trenchless and Directional Drilling Services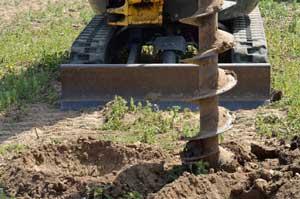 As your local boring company in Vancouver, WA, we're always ready and prepared to help. Mainline problems can cripple a home or your business. They can cause sewage backup, stopped toilets, and worse. The last thing you want to do is add to the problem. We can fix it cleanly, safely, and affordably with specialized directional boring. Call us today for scheduling.
See What Clients Are Saying