Professional Water Line Replacement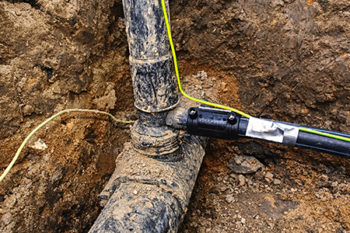 Replacing your main water line is one of the biggest repairs you can make to your plumbing. Where it's important to do all plumbing jobs right the first time, replacing the main water line – or even repairing it – is not something most want to revisit.
With over 20 years of experience in main water line replacement, repair and plumbing repipes the plumbing contractors at PNW Plumbers are standing by to troubleshoot, diagnose and repair or replace your main line.
Signs of Water Line Issues
There are few giveaways that there's a problem to the main line that most homeowners might miss. If you notice one or more of the following signs, it's probably time to call a professional plumber to come take a look.
Spontaneous Puddles of Water Outside: Puddles or pools of water springing up outside indicate a leak on (or at least affecting) your property.
Drain Strain: Water that won't drain from toilets or sinks are also clear signs that something is amiss.
Water Usage Spike: Notice a spike in last month's water bill? You might be sitting on a leak that is going unnoticed. But the numbers don't lie, so if you're water usage has significantly increased without explanation, get one of us out to look at your water lines.
The Sound of Water: Sloshing, bubbling, howling, or dripping. If you hear anything other than silence coming from your pipes when not in use, that might mean you've got a breach, or more likely a clog, somewhere along the line.
Repercussions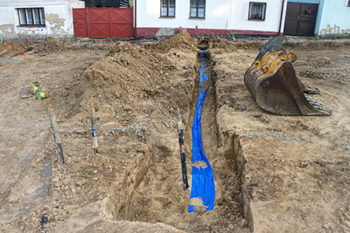 Depending on the home and the layout of the main line's connection to the municipal plumbing system, excavating, extracting and replacing the primary water supply to your home is not only disruptive to your property, it also leaves your home without water at all. If you know you've got a problem with your main line, leaving it alone is not an option. Here's why:
At best, your home has no water supply. For most people, however, a home without running water is a deal-breaker.
Whether it's by procrastination or by denial, a leak left unchecked could eventually seep through your property and into your foundation. Most homeowners know that foundation troubles mean some of the costliest repairs possible for a home. Couple that with the inevitable replacement of your main water line, and you've all of a sudden got some high-dollar work needed for your property.
We may not think about it, but for the same reason a leak to the main line could weaken your foundation, it can also wreak havoc on your soil. What begins as a pool of water the bubbles to the surface, eventually softens the soil – which could lead to your own personal sinkhole.
Repliable Water Line Replacment
If replacement hasn't already occurred on your property, then it's just a matter of time before it does. Ideally, this doesn't come as much of a surprise when it does take place. However it arises, if your main line needs replacing, PNW Plumbers knows how to get the job done right the first time. If you're unsure how you're going to pay for it, we can even offer financing options to ease the burden.
Every member of our team does work they can stand behind, which is why we offer a full guarantee on everything we do. For homeowners looking to make the most of our services the first time, we might also suggest the following services:
Repipes for brand-new plumbing throughout your home.
A clean new water heater for steady, steamy water flow.
And every plumbing job under the sun.
If you suspect or confirm that a main water line replacement on your property is on the horizon, call PNW Plumbers for a professional inspection and free quote.
See What Clients Are Saying