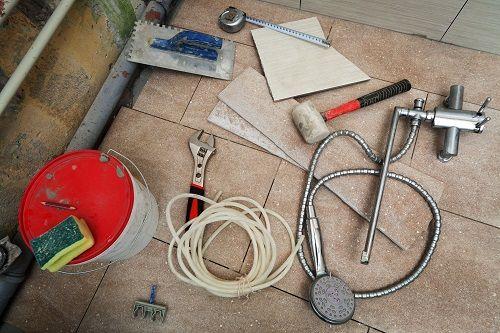 The 10 Things to Consider Before Doing a Bathroom Remodel
Whether there's a simplistic powder room or master en suite that needs remodeling, functionality ought to be at the core of your bathroom remodeling. Read below to learn tips and tricks for improving drainage and lighting, gaining storage, and more to make sure that your renovated bathroom withstands the test of time.
1. Plumbing
Typically, residential plumbing utilizes 1½-inch pipes for drains. You would be shocked by how much hair and gunk heads down that drain. The bigger the drain, the less likely it will be to clog. The price difference to upgrade to a 2" drain is practically negligible; plus, unless the framing does not permit it, you ought to give consideration to increasing the drain inside the shower to 2".
In addition, if you reside in an area in which temperatures dip below freezing in the wintertime, it is vital that your water supply lines do not get routed through an outside wall.
2. Lighting
Give consideration to recessed light fixtures all throughout the ceiling in order to brighten the room up. Include one or even two in the shower with the correct shower trim. Out in a dimmer switch in order for you to adjust the mood inside the bathroom. You will want to think about how you will be using your mirror in the bathroom and if you want functional or aesthetic lighting. Whether you will be shaving or applying make-up, bright light fixtures that are placed properly go a long way in helping you see what you are doing up close.
3. Medicine cabinetry
Do you have the necessary space to recess your medicine cabinetry? Often, it's an excellent method of saving a couple of inches of space over a shallow vanity, plus, the extra framing usually won't break the bank. If that isn't an option, make sure that you have sufficient room at the vanity to have the medicine cabinet protrude by 4" – 5".
4. Wall-hung toilets
Such fixtures have increased more and more in popularity. They no longer break the budget, and they additionally save space as the tank is concealed behind the wall. However, there's a huge consideration with such unique fixtures. Because of how the toilets drain, if you change your mind and choose a floor-mounted model, you are going to have to rework the supply.
5. Window inside the shower
It's an excellent feature if properly done. Some things to take into consideration: For privacy, pick a frosted glass panel; preferably a panel which opens up for fresh air. Then, make sure that there are jambs all along the whole installation so that the space is watertight. Ensure the sill is sloped down and is far away for correct drainage. Finally, the window (tilt-and-turn) inside a shower is always specified. This is done as the screen is situated on the exterior of the window, and the handles are plastic; therefore, they will not rust; and the window offers complete privacy even as tilted open.
6. Shower sills
As with the windowsill, what is key here is that it's properly sloped into the shower. Attempt to select a material that's solid, such as quartz or stone. If you tile the shower curb, water may sit on the grout lines and ultimately seep through to its framing.
7. Shower flooring
Bigger tiles typically are more of a challenge to properly slope, and unless they are textured, they will be more slippery because all grout lines are further apart. Whether textured or not, smaller tiles provide more traction and typically are the norm for shower flooring— although the options are almost endless.
8. Shower bases
Gone are those days of boring, prefabricated, beige shower bases. More and more, companies have been utilizing shower systems with clean, modern bases that are made of porcelain or acrylic. Do not overlook additional options for the shower floor.
9. Drawer storage
Think about installing a vanity that has drawer storage instead of doors. Drawers are easier to organize and easier to access. They may be cut out around the plumbing, as well as may be extra-large in order to accommodate larger items.
10. Tub or shower?
As you consider a shower-only or a bathtub option, ask yourself, "How many baths do I take per year?" You aren't renovating your home for a future buyer, yet rather for yourself. Even if you live inside your home only for an additional 5 years, it is worth it to do it for yourself. Besides, there isn't any guaranteed method of telling what is going to appeal to a future home buyer.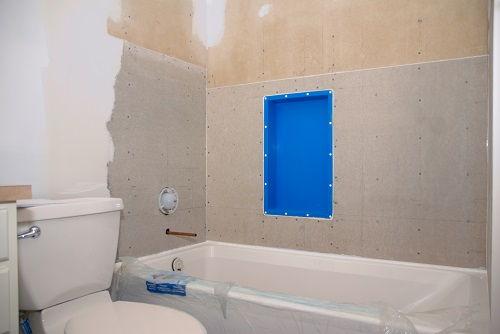 How you can save money on a bathroom remodel
Justin Pierce is an investor who routinely writes about his experiences selling, buying, and renovating homes. The national average for a complete bathroom remodel is $16,128, according to Remodeling magazine.
In addition, the magazine states that the improvement is going to increase the resale value of your home by about $11,688.  However, in our area it's possible to receive a great bathroom remodel for about $5,000 and turn all of your effort into equity gold.
The figures put out by Remodeling magazine are based upon a bathroom that's 5' x 7'.  It's a main bathroom, and not a master bathroom.  The work would involve new tile on the floor, toilet and vanity that has a top and built-in sink, as well as a tile tub surround and new tub. It additionally involves hardware, new paint, light fixture, and faucets.
It doesn't involve any structural work, electrical or moving plumbing locations.
As it'll come to a bathroom remodel, 50% – 75% of the price is in labor, assuming that you are contracting all of the work out and you are being reasonable about the materials you choose.  Therefore, in the project your most powerful money-saving tool is negotiation skills and knowledge.  You have to locate a reputable contractor and work with her or him to attempt to decrease those labor expenses while still accomplishing high-quality work and offering worthwhile work, as well as profit to the contractor.
The most powerful cost savings tool on a bathroom remodel is knowledge.  Understanding the bathroom remodeling process is critical.  You absolutely can get the bathroom remodel down to about $5,000, yet the majority of contractors are going to tell you that you are crazy and that you do not know what you are talking about if you approach them with that situation.