What To Know About Repiping a Home
Replumbing. Repipes. Replacing all the pipes. Whatever you want to call it, putting new plumbing in your home is a big deal for most households.
But that's not to say it's not worth it. New pipes consistently bring in a higher volume of better water to your home and when done right, may not be the destructive process many homeowners worry about.
---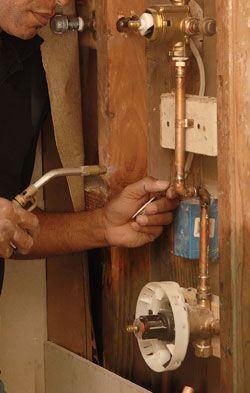 Will My Home Be Destroyed During a Repipe?
Plumbers, good plumbers at least, only remove as much flooring or drywall as needed to fix your pipes. So unless you've hired a fly-by-night plumber to carry out what is a pretty important job, then you shouldn't worry about your home being demolished.
Every home's plumbing is different, however, so it's typically not always clear how much surfacing (walls and floors) will need to be cut to gain access to the pipes that need replacing.
Additionally, homes going for a full repiping will likely see a few more holes in the walls than those going for just a section of piping. As you can guess, an experienced plumber can greatly mitigate how much cutting needs to occur.
Repiping Pier and Beam vs Slab
One factor that may have an impact on the level of demolition needed, as well as the end price, is if your home sits on a pier-and-beam foundation or slab. You can probably fill in the rest of this part already.
A solid slab foundation prohibits a plumber from getting underneath the house to access your plumbing. Pier-and-beam setups, which typically come with a crawl space beneath the home, will often allow plumbers to reach large sections of your old pipes that way.


What is "hammering?"
Hammering occurs in copper or metal pipes after the water has been turned off, but the water pressure stays on.
In case you're wondering, it's not good for pipes!
---
Copper Vs Pex
Some people believe that unless there's a specific reason for it, copper piping is usually just a more expensive (about 3x more expensive) option for homeowners. So why do some homes choose copper?
Copper remains a popular choice because of its dependability and because it takes a long time to corrode. For more experienced plumbers it's easy to work with and it's the clear choice over other metal options including galvanized steel. It's also UV-resistant and can be used outside, and believed by many to be safer due to properties that prevent bacterial growth or leeching.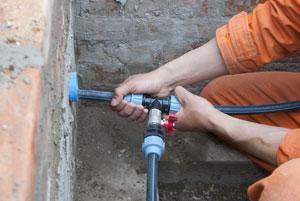 Many modern homes, though, are turning to flexible, plastic PEX plumbing to route water through the home.
Especially for homes that are replacing their plumbing because of aged pipes wearing down over time, PEX is a durable upgrade that can meet just as much demand as copper, cost significantly less and won't lead to the same problems down the line.
Wondering what's best for your home? Don't hesitate to give us a call and tell us what you're thinking about having done. Whether it's copper, PEX or a combination of the two, our experienced plumbers will be able to point you in the right direction.